I grew up in Llanfair, Pennsylvania, which is a village on the hillside above the neighboring village of Dunlo. Both are small villages located in the Laurel Highlands region of the Applications Mountains in Adams Township, Cambria County. They are quintessential former coal mining communities of west-central Pennsylvania, and like many of the other communities in the area, each have their own unique traits and people that made them memorable places to have grown up in.
The villages were founded and thrived and around the turn of the 20th century. Many immigrants from Eastern Europe settle in the area looking for work in the coal mines, including relatives on my grandmother's side of the family. Her parents and relatives came to the area from Prezov, in present-day Slovakia. I've been told that one of the reasons my great-grandparents settled in Llanfair was because it reminded them of being at home in the Carpathian Mountains.
Records indicate that Dunlo and Llanfair were both founded around 1890. The name Llanfair originates from the Welsh village of Llanfairpwllgwyngyll and Dunlo originates from Ireland.
Most houses in Llanfair of Dunlo were built primarily for company coal mine workers. Many houses were home to at least two families, who each shared one side of a two-story wooden framed and shingled house. My grandparents house were my father grew up was like this and he actually grew up in half of a house. As years went by most of the houses were converted into single family dwellings. The house I grew up one was already converted to a single family house, as were most of the houses in the neighborhood by that time.
Llanfair and Dunlo school children would attend a shared two-story brick school building located between the two villages on Llanfair Road. My father attended school there when he was elementary age. I believe the school closed in the 1970s when the Forest Hills Elementary school in nearby Sidman opened. It is one of the more notable buildings still left in Llanfair and Dunlo.
Other noteworthy buildings in Llanfair include the Dunlo American Legion Post 573, Conway's and Susko's. The Dunlo American Legion is the present day building of what used to be a coal company store that employees of the local mine would use to by goods from. I remember going there frequently for Cub Scout events and my father would take me there around Christmas to sit on Santa's lap. Next to the legion is a flag post, where a bank used to be. My father told me he helped tear it down for George Rachael, who lived in the house to the left of the legion.
Susko's was a small convenience store and gas station located just off of Llanfair Road, which closed in the 1990s. It was owned and operated by George and Sylvia Susko. I remember going there a lot when I was growing up. I would get penny candy, a glass bottle of soda and would sit outside on a bench in my glory feasting on my treats. During Halloween, it was always one of the favorite stops because you would get full size candy bars from Mr. and Mrs. Susko. It's worth mentioning that Mr. Susko was a good friend of grandfather John Hutsky and both him and his wife were very kind people. When I was younger I remember them having a very friendly small black dog named Freckles, who would roam the neighborhood.
Across the street from Susko's is Jim Rachael's house, who is the present-day tax collector for Adams' township. His house actually used to be a former church.
Conway's Tavern was a small tavern located at the bottom of Llanfair Road. My dad mentioned that it was a popular stop for snowmobiles in the winter time. This is due to it being next to abandoned train tracks that went up to nearby Krayn and down into Dunlo. I want to say this building used to be a train depot or station because the railroad tracks near it. I located a train schedule that lists Llanfair as one of the stops (see accompanying image). It would only make sense for the depot or train station to be in this location. It closed in the 1990s after a fire destroyed part of the building. It was then converted into a private garage.
I was told by my grandmother that her parents moved from one end of Llanfair to the other due to there being too many English speaking people were they lived. I thought this was pretty funny because it's hard to imagine that these days. She also told me that Llanfair used to have its own school as well, which was located about halfway up Llanfair Road towards Krayn.
Speaking of my grandparents, they first met in Llanfair, when my grandmother was sitting on a culvert at the top Llanfair Road with some friends. My grandfather drove by from his home in Creslo, PA and saw her sitting there. And the rest as they say it is history…..
Further up Llanfair Road towards the village of Krayn, was a gas station. It closed long before I was born, but you can still see the building (now a private garage) were this used to be.
I really enjoy collecting local history and I hope you enjoyed the site. I'm hoping to keep posting additional information as I collect it. If anyone visiting this page has any information on Llanfair and Dunlo you'd like to share, please contact me at walter@walterhutskyjr.com.
I'd like to give special thanks to my wonder girlfriend Mary for helping me take pictures, my dad (Walter Hutsky Sr.), the Cambria County Historical Society, facebook history groups and Cambria County Library for providing me with information.
Please click below for a PDF file of a collection of comprehensive Dunlo and Llanfair history articles: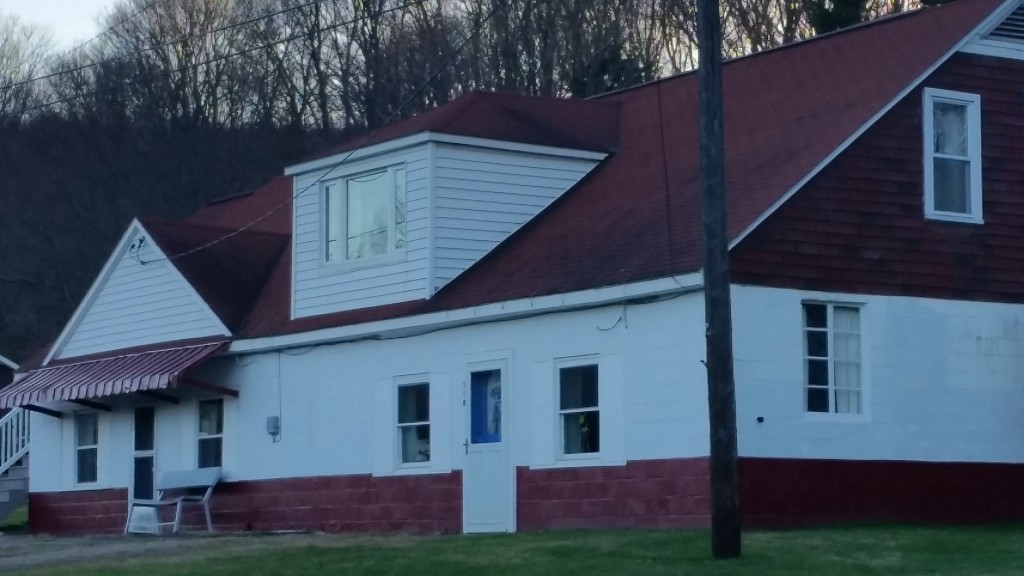 ---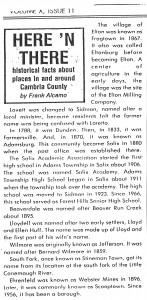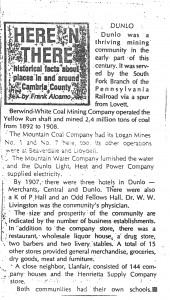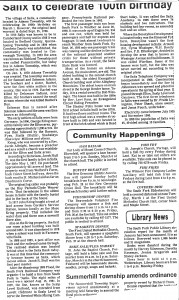 ---
Related Web Pages
https://rusynsofpa.blogspot.com/p/from-carpathians-to-alleghenies.html