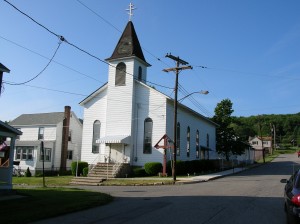 This blog post is dedicated to SS. Peter & Paul Byzantine Catholic Church in Dunlo, Pennsylvania. The church has played a memorable part in the lives of many who attended it for over the last hundred years. It has seen countless baptisms, weddings, receptions, first holy communions, Easters & Christmas celebrations, confessions, funerals and has been host to many other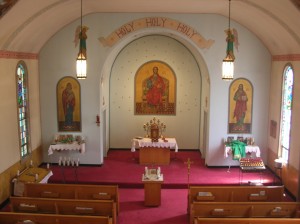 important life events for many people.
It's been more than just a building, but a community and gathering place for those in the village of Dunlo, Pennsylvania, many of whom in its early years shared a common Carpatho-Rusyn ethnic heritage and Slovak language.
My grandmother's parents were members of some of the earliest congregations there. They were also immigrants from Presov, which is a region in the Carpathian mountains of present-day Slovakia. I believe this church and their faith gave them and others hope and commonality in a new country full of everyday struggles.
My earliest memories of the church involve my dad who used to take my sister and I to church there on Sunday mornings. We'd sit in the balcony near the cantor and in the same pew as George Rachael.
This is a bit off topic, but I wanted to make special mention of George Rachael. He lived near us in Llanfair and was my dad's good friend and mentor growing up. He was also my sister's godfather and was a marine in World War II with the 6th Division in the South Pacific Theater. He saw action in some of the biggest battles of the war, including those in Okinawa, Guam, and Guadalcanal. He was a really nice guy who always had some sort of life anecdote to share.
I used to frequently go visit him with my dad when I was growing up. Later in life I'd make a point to stop in and talk with him when I would ride my bicycle past his house and see him on his porch.  My dad and I go with him to pick wild mushroom up in the mountains. He always knew were to go to find them and knew a lot about the woods.  I remember he used to take his sister Margaret to church every week and could be frequently found outside chatting to friends before church. I feel more people like him should have pages on the Internet about them. I could also share many other stories of fellow parishioners from over years…. Sadly, George passed a away a few years ago, but he hopefully he'll live on in stories like this.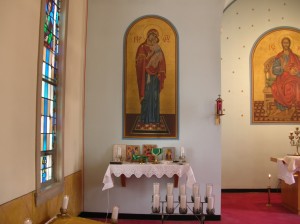 One of my fondest memories growing up was going Christmas caroling with other children of the church after catechism class. Mrs. Caroline Garanich and Mrs. Louise Cimba were our catechism teaches and they would take us all to visit the home bound each Christmas. We'd bring them gift baskets of fruit and even sing them traditional Slovak Christmas carols (in Slovak mind you). I didn't understand what I was singing, but you could tell that us visiting them meant an awful lot to them and most of them cried as we sang. In a way it was really sad, because many times those who we'd sing to weren't around to celebrate the next Christmas.
When I was old enough, I became an altar server and would frequently served at divine liturgy, as my father and uncles did before me. I was trained to be an altar server by my and dad. I was also trained by Jason Yatsky, who sadly is no longer with us.  I trained my younger brother to serve and we both served many years together. I continued serving until I was well into my late 20's.
The church and my faith were there during a lot of happy and sad times in my life. I'll never forget everyone who went there as long as I live. Some of the priests that were part of the church over the years while I was there included Fr. Stephen Kolcun, Fr. Edward Pyo, and Fr. James Spontak. Each of them were great men and taught me important life lessons that I still carry with me and help make me who I am today.
The church celebrated it's 100th anniversary back in 2009. Many past and current clergy and parishioners attended the event, including Metropolitan Basil of the Byzantine Catholic Archeparchy of Pittsburgh. As part of the celebration, I gathered many historical photos and with the help of my friend Jason Thornton, filmed the entire celebration.
If anyone is interested in downloading and watching the 100th anniversary DVD, you can download the ISO file below to create your own DVD. The DVD includes the divine liturgy, panachida and banquet. I've also included historical photos and photos of the 100th anniversary below, along with a copy of the commemorative booklet that was handed out. The booklet includes a detailed history of the church and listing of all priests who have served there.
If anyone has any information they'd like to include on this page or if you have any questions, please contact me. Feel free to download any and all of this information. Special thanks to all who submitted photos and information to me to help make this page possible.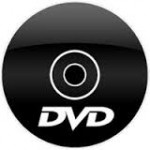 SS. Peter & Paul 100th Anniversary DVD iso 
For those of you who need help with burning this to a DVD to watch, please follow the link below for instructions or download an iso burning utility such as ImgBurn.
https://technet.microsoft.com/en-us/magazine/dd451080.aspx
St. Mary's Byzantine Catholic Church (Beaverdale) History:
Beaverdale is a village a few miles away from Dunlo and this is the history of the sister church of SS. Peter & Paul Byzantine Catholic Church in Dunlo from when it celebrated it's 100th anniversary back in the 2000's. The rectory used to be located in Beaverdale on Cameron Avenue and both parishes shared a priest.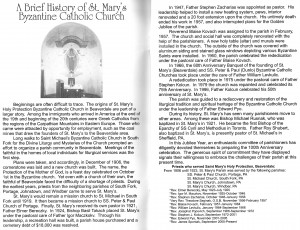 Historical Photo Collection
100th Anniversary – 2009
100th Anniversary Commemorative Booklet