Johnstown, PA Haunted Locations
By Walter Hutsky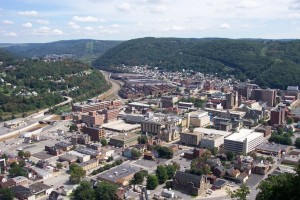 We are frequently contacted by people asking if we do ghost hunting tours or if we know of any alleged haunted places they can visit around the Johnstown Area.  We don't do tours or take people with us on investigations, but we can recommend some places you may want to check out in the west-central Pennsylvania area.
Below is a list of places that all open to the public, generally safe, and free.  Please refer to our Dangers of the Paranormal Article before setting out on your own.  People need to stay safe and be aware of possible dangers they may face when out seeking paranormal phenomenon.
Warning must be given about visiting cemeteries at night.  It's against Pennsylvania law to be in one after sunset and police keep a close eye on them.  Also, please be sure to obtain permission before entering any private property.  This could get you arrested and also cause you to lose credibly as a ghost hunter.
The Rolling Mill Mine
Location:  Johnstown, PA Cambria County
(Off Route 56 on the hillside next to the Johnstown Incline Plane)
The Rolling Mill Mine is former mine site were a tragic gas explosion in 1902 killed 112 miners.  People have claimed to see apparitions of phantom miners walking the James Wolfe Sculpture trail that leads up to the mine entrance.  Check out the Other Investigations section of our website for detailed information and pictures of the mine.
Johnstown Stone Bridge
Location: Johnstown, PA Cambria County
(Off of Route 56 next to The Point Stadium and Johnstown Festival Park)
The Johnstown Stone Bridge is a seven arch railroad bridge built in 1887.  It survived the deadly 1889 Johnstown Flood in which a massive pile of debris from the flood collected there and caught fire. The fire killed many people that survived the initial flood waters.  Some say the souls the departed victims still haunt the area.
Portage Railroad Museum
Location: Portage, PA Cambria County
(Intersection Lee and Washington Street)
The Portage Railroad Museum building was built in 1926 and was used as a railroad station along the Pennsylvania Railroad until 1954.  An apparition was seen there by an employee and SPLAT has conducted an investigation in to the building.  Please click here for more information.
Grandview Cemetery
Location:  Westmont, PA Cambria County
We've received many accounts of strange encounters with sprits at Grandview.  It's one of the largest cemeteries in Pennsylvania with many detailed and lavish monuments.  It contains a special plot with 777 unidentified victims of the 1889 Johnstown Flood.
The Lost Children of the Alleghenies Memorial
Location: Monument Road in Pavia, PA Bedford County
(Route 869 near Blue Knob State Park)
The Lost Children of the Alleghenies Monument is dedicated to the memory of Joseph (5 years old) and George (7 years old) Cox who were found dead after becoming lost in the woods near their home on April 24th, 1856.  The story of them becoming lost is very tragic and involves unexplained paranormal events that lead up the discovery of their bodies.
SPLAT has heard possible EVPs that some feel are the spirits of two boys who died there.  The monument is located deep in the woods on the outskirt of Blue Knob State Park and is a somber yet interesting place to visit.  Get more information about it here.  
Jon Bonnet Tavern
http://www.jeanbonnettavern.com
Location:  Route 30, Bedford County, PA
The Jon Bonnet Tavern is a restaurant and inn that dates back to the 1700's.  Ask for the ghost book if you stop in.  It contains various paranormal pictures and articles from the tavern. It's also interesting to read the guest book of visitors who have spent the night there and experienced things in the darkness.
Gravity Hill
Location:  Gravity Hill Road, New Paris, PA Bedford County
Gravity Hill isn't haunted, but it's a fun and unusual place to experience where the law of gravity don't seem to apply.
The Windber Hotel
Location:  15th Street, Windber, PA, Somerset County
The Windber Hotel is fascinating and historic four story brick building located in downtown Windber, PA.  It was built at the turn of the 20th century (c. 1897); around the time Windber was first founded.  Over twenty deaths are said to have occurred in the hotel over the years, including murders, and many local residents and former occupants feel that the building is haunted.
The White Lady of Wopsy Mountain 
Location:  Buckhorn Road, Altoona, PA Blair County
We've come across many legends about apparitions of ladies in flowing white dresses roaming local
roads.  One place involves the Lady of Wopsononock Mountain.  Legend has it a woman died there in a carriage accident long ago on her wedding night at a sharp curve in the road nicknamed Devil's Elbow.
Drivers along the road have reported seeing her figure and some claim to picked her up only to have her vanish from their car.  A similar story involves a ghostly woman out on Willow Beech Road in Wilmore near the Wilmore Reservoir in Cambria County.
There's a lookout at the top of Wopsononock that oversees the whole city of Altoona. I highly recommend stopping there if you are in the area.
Snavely Cemetery (Becky's Grave)
Location:  Elton, PA Cambria County (off of Mount Airy Drive)
Local legends state that this cemetery is haunted by the spirit of Rebecca "Becky" Kring.  Becky was said to be buried in the cemetery after having been hanged or burned by villagers who found out she was practicing witchcraft.  We uncovered the truth behind this legend and you can find out more information about it here.
Crum Cemetery
Location:  outskirts of Windber, PA Somerset County
(Off of Route 56 on Crum Road)
Crum is old and secluded cemetery dating back to the 1800's.  It was actually located in the village of Crum, which was mysteriously abandoned long ago.  Nothing remains of the village except for some building foundations and the cemetery itself.  Stories of the place being haunted have been circulating for years.  SPLAT actually caught some strange ecto mists on film at Crum during an investigation there.  
Altoona Railroaders Museum 
Location: Altoona, PA
If you ever head out to the Altoona area you may want to stop and check out the
Railroaders Museum.  The first episode of the TV show Ghost Hunters was filmed there and the place is supposed to be haunted.